People are turning to online shopping, and our ongoing study indicates that this behavior is here to stay for many verticals. We cover these findings in our latest article for the American Marketing Association, where we shared reasons "Why Your Brand Needs to Care About Shopper Insights."
So what does the online shopping shift mean for the way we communicate with and market to our customers? There are three main areas to look at when reaching people in this environment: how you package your product for e-tail, how you market effectively and successfully in the virtual landscape, and what your customers' purchasing experience looks like when shopping online.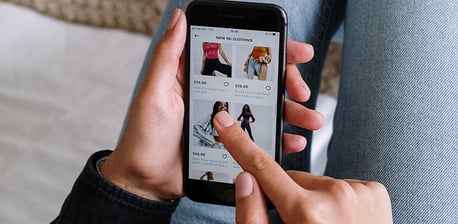 Online Packaging Optimization
In a recent white paper about brand packaging in an omnichannel environment, we discuss how brands can update their packaging for the online channel, which may mean providing a more simplified version of what might be seen in the store.
So how can you determine what packaging optimizations to make your product stand out during an online scroll? Our AMC Pack Pulse™ Visual Identity System testing assesses the visual product story in any environment to provide clear and action-oriented optimizations to help you help your packaging work as hard as it can for you to capture the consumer. In an online environment, you will probably want to keep things simple on your pack design, while remaining on brand, relatable and easily recognizable.
Communication Tactics
A key part of success is a communication strategy that captures the online consumer with effective messaging and reaches them through the right marketing channels. There are a myriad of online distractions that can interfere with marketing your product. The AMC Global Message Filter™ can help brands prioritize communications for on-screen and on-pack communications, as well as inform how to position or reposition a brand or product for the online shopping environment.
Online Shopping Experience
How a shopper moves through the online retail environment is important. Consumers are looking for customized content and innovation during their shopping experience—and to understand how to make this the best that it can be, you will need to hear from the shopper themselves. Brands can use both qualitative and quantitative market research approaches with online shoppers to get the right insights to inform changes to the user journey when they purchase your product online. Through shopper research using creative and custom research solutions, conducted online, on mobile, or via virtual methodologies, brands can get the insights they need.
One of our favorite ways to glean robust consumer insights into what product packaging, marketing communication and virtual user experience will work best in the online shopping environment is through AMC Global's proprietary PFU program. This approach is ideally suited to provide quantitative and qualitative attitudinal insights from the earliest purchasers of new products sold via ecommerce sites. These insights are critical, because they will help you to understand how well your products are actually performing among your online purchasers.
Findings from this research can help you to understand—early in the launch—how well these three key areas are performing and if any modifications are needed in order to enhance the likelihood of success in the online marketplace.

We're all still figuring out how the future will look. Staying on top of your audience's new habits, especially when it comes to the ever-important purchase journey, can mean the difference between success and failure in a changing marketplace. If we know online shopping is here for the long term, it's time to start looking at ways to proactively serve customers in this environment. Reach out to us to learn more.