Third wave of ongoing AMC Global study on consumer perceptions during COVID-19 released today
Priorities are shifting during the COVID-19 pandemic with availability superseding price and brand name when purchasing food, beverage and household items.
The third wave of the weekly syndicated study by AMC Global (an international custom market research firm specializing in launch strategies and brand tracking) and OpinionRoute (a leader in insights process management) was released today. This week's research focused on the shift of consumer priorities in decision-making when purchasing grocery or household products during the COVID-19 pandemic. The questions asked explored importance of brand and price of purchases, as well as on current purchasing decision drivers.
Check out the full graphic of the data by clicking the callout below.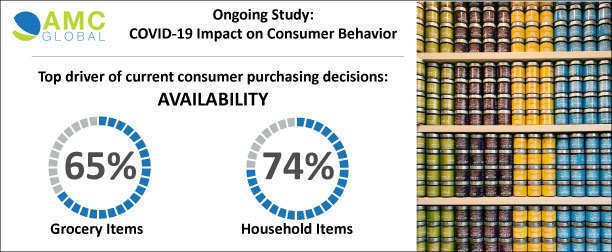 Key findings for the week of April 13:
For both grocery products and household products, the major driver of current consumer purchases is availability. 65% of respondents cited availability as the major driver in grocery product purchase, and 74% for household items.


Brand and price were still important to consumers in many categories, with baby food and formula with the highest importance of brand (58%) and price (53%) followed closely by pet food with brand (52%) and price (45%).


Aspects with limited importance to consumer decision-making during times of COVID-19 include organic or non-GMO grocery products (6%) and environmentally friendly packaging on household products (6%).

Libby Mapes, VP of Insights and Strategies at AMC Global notes, "

Seeing availability as the top purchase driver is unusual compared to what we typically see. Availability is often a 'cost of entry' attribute, and this rise in importance is clearly a reflection of these 'unusual' times.

"

A complete representation of the data can be found here. New results and findings will be released on April 23. The study findings are designed to help clients and industry leaders navigate quickly changing consumer behavior during the crisis.

New results will be released on Thursdays based on the study's weekly polling of U.S.-based general population primary purchasers.
Ideas for future questions? Consumer feedback is more important than ever and we can help you get the insights you need. Reach out to us.