How will changes in masking guidelines affect consumer behavior?
In the 29th wave of our ongoing study with OpinionRoute, we looked at how new masking guidelines set by the Center for Disease Control (CDC) here in the United States will affect consumer shopping behavior. Even though guidelines state that people fully vaccinated against the COVID-19 virus are no longer required to wear a mask, many people—vaccinated or not—will still choose to wear a mask in public. Study respondents reported they are more likely to frequent an establishment that continues to require masks for all.
To see a full graphical representation of the data, click here or the callout below.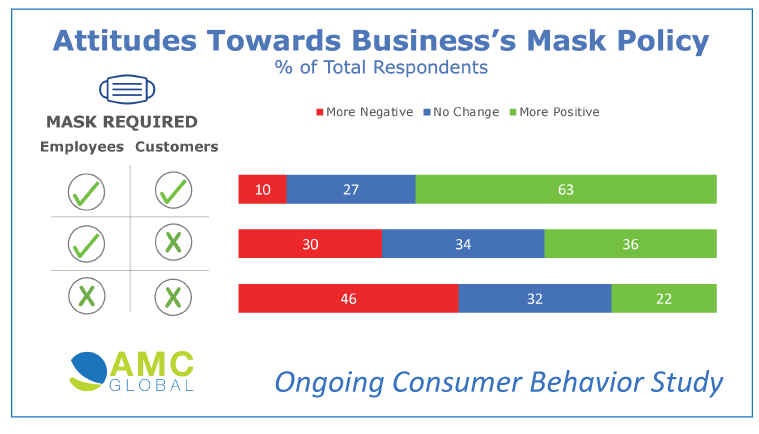 Key Findings About Masking in the U.S.:
Seventy-two percent of respondents report that they will continue to wear a mask regardless of their vaccination status.


Mask requirements by shopping and dining establishments will affect consumer choice, with 55% of people more likely to shop in a store requiring masks for all, and 42% more likely to patronize a bar or restaurant still requiring masking.


Favorable consumer attitudes increase when businesses still require masking by all, with 63% having more positive reaction to establishments that require employee and customer masking.


The study also included data on whether Americans are planning to be vaccinated or not. Twenty-seven percent of study participants have not yet been vaccinated, 73% have already been at least partially vaccinated.
A complete graphic representation masking requirement attitudes and impacts can be found here.
New results are shared each month based on the previous week's polling of U.S.-based general population of primary purchasers age 21+. The next set of findings will be released on June 24. The study findings are designed to help clients and industry leaders navigate quickly changing consumer behavior during the pandemic, and other consumer trends in the marketplace.
Want to learn more about how consumer preferences can affect your business? Reach out to us!