Ongoing AMC Global research reveals new and trend data from Americans regarding holiday shopping and in-person holiday gatherings
The latest wave of the ongoing study by AMC Global (an international custom market research firm specializing in launch strategies and brand tracking) and OpinionRoute (a leader in insights process management) was released today. This current study uncovered new insights and trend data from Americans about purchasing gifts and planning gatherings during the 2021 holidays.
Based on this data, there is expected to be a return to more in-store Black Friday shopping, and the number of gift recipients and holiday spend is closer to 2019 numbers. With concerns over items being out of stock, there is a further shift to shopping early this year. Following suit, there looks to be more holiday-related gatherings this year compared to last year—although overnight holiday travel is likely to be fairly similar to last year with most traveling by car and staying with family.
A complete representation of the holiday shopping behavior data can be found here or click on the callout below.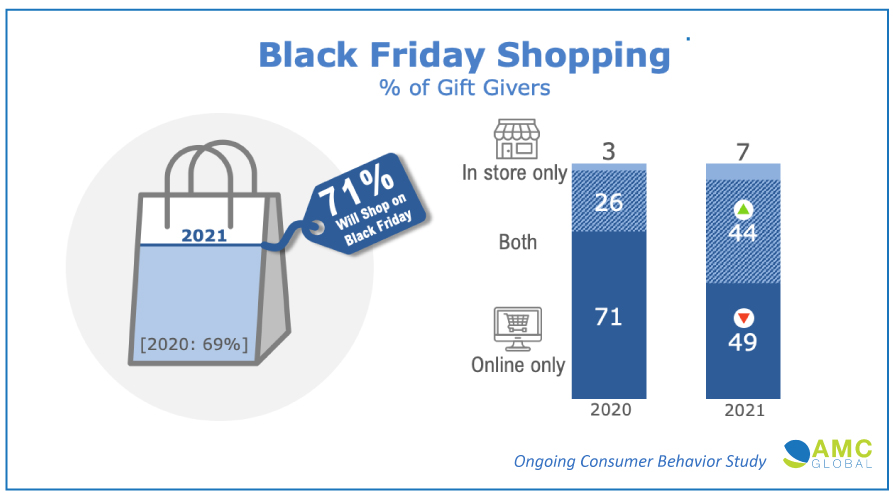 A complete data representation of holiday gatherings data can be found here or click the callout below.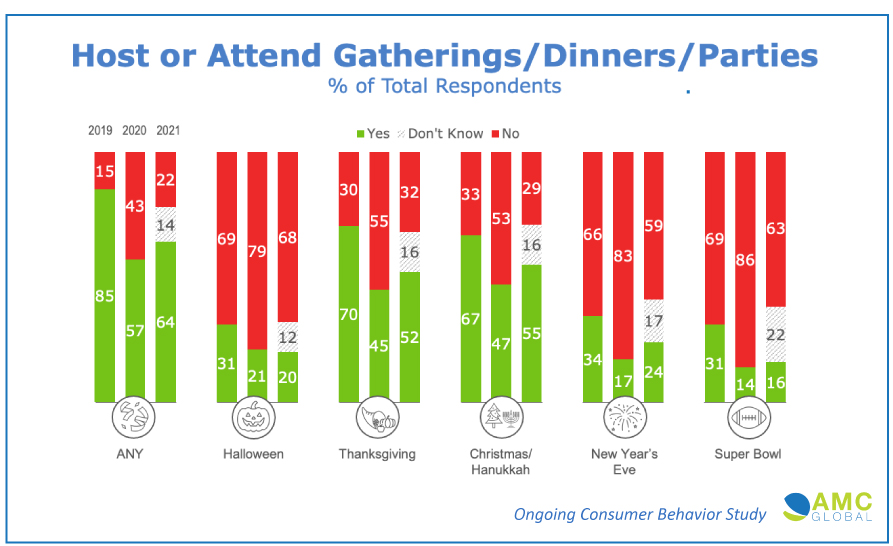 Key findings for the week of September 27:
The average amount of holiday gift spending per shopper will be approaching 2019 levels of $775. 2020 level was $739 and 2021 is expected to be $767.


In 2020, 34% of respondents indicated they will be holiday shopping earlier than 2019; this year 24% expect to shop earlier than in 2020.


While the number of respondents who will only shop in store only has increased a small amount from 3% in 2020 to 7% in 2021, the number of shoppers who will shop both online and in-store increased from 26% to 44% year over year.


Thanksgiving in-person gathering plans are up to 52% in 2021 compared to 45% in 2020; with Christmas gatherings at 55% (47% in 2020) and New Year's Eve at 24% (17% in 2020). However, there is a sizable portion that are currently unsure of their plans, so the number of people gathering has the potential to increase even further from 2020.
Want to learn more about how consumers' holiday shopping and gathering plans can affect your brand and business? Reach out to us.