What do holiday plans look like this season?
AMC Global study shows holiday food, beverage and alcohol purchasing impacted by COVID-19
The twentieth wave of our ongoing study with OpinionRoute looked at consumers' holiday behavior, particularly in light of their projected food, beverage and alcohol purchasing plans. Study participants reported overall holiday gatherings and entertainment activities are likely to be down from 2019. Due to a decrease in holiday plans, consumers predict purchases in the food and beverage category will decrease in 2020 as well.
You can see a full representation of the predicted holiday plan data here or click on the callout below.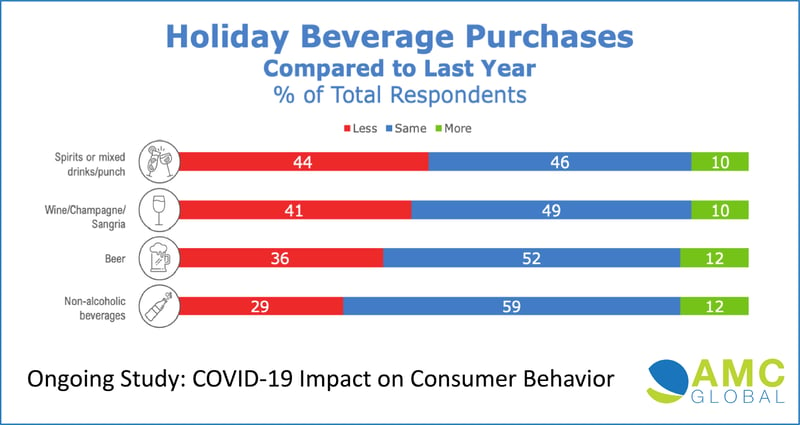 Key findings for the week of October 19:
Projected alcohol purchasing for the holiday season is projected to be down, with 44% of study participants predicting purchasing less spirits, 41% less wine and 36% less beer.


Holiday food purchases will also be down, with 33% predicting purchasing less desserts, 31% less appetizers, 30% less snacks and 30% less meat.


Many are less likely to attend holiday gatherings, parties or dinners, with only 45% of respondents planning on Thanksgiving events compared to 70% in 2019; 41% planning on Christmas or Hanukkah events compared to 67% in 2019.


There is uncertainty about holiday plans as well, with 13% of participants reporting they do not know what their plans will be for Halloween, 18% don't know for Thanksgiving, and 23% don't know for Christmas, Hanukkah or New Year's.
A complete representation of the holiday entertainment and purchasing behavior data can be found here.
Find out how your brand, with AMC Global, can prepare for the very different holiday season ahead so you can be sure to meet your target consumers needs. Get the insights you need, quickly.