Ongoing AMC Global research shows some new purchasing trends and behavior shifts will continue after the pandemic

The latest wave of our ongoing study with OpinionRoute shows many Americans have purchased outside of their typical brands recently—with newly experienced food brands likely to see the most continued purchases in the future. The study also looked at various behaviors during the pandemic and, as noted in previous findings, consumers expect to continue the trend of eating home cooked meals and eating healthier. You can see a full representation of the data here or click on the callout below.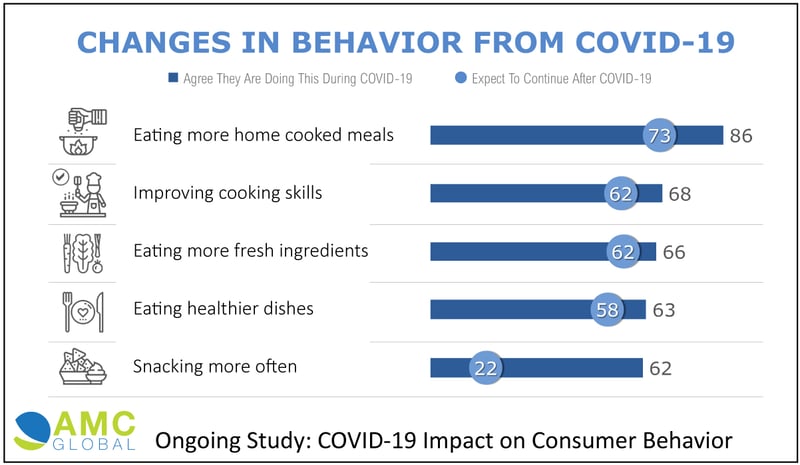 Key findings for the week of July 13:
During the pandemic, 60% percent of consumers purchased food brands not typically used before—only 21% predict they will return exclusively to their original food brand; 54% tried something new for cleaning with 33% planning to return exclusively to their original cleaning brands. Many expect the future to include a mix of both newly tried and usual brands after COVID-19 (72% food, 55% cleaning).
Loyalty may be stronger for toilet paper, while 57% had to purchase something outside of their typical brand during COVID-19, 49% will return to their original brand.
Consumers predict that some changes in behavior will continue after the pandemic is considered over. Seventy-three percent expect to continue eating more home cooked meals, and 62% expect to continue improving cooking skills and eating more fresh ingredients. Only 22% predict that increased "pandemic snacking" will continue.

A complete representation of the data can be found here. New results and findings will be released on July 30. The study findings are designed to help clients and industry leaders navigate quickly changing consumer behavior during the pandemic. Want to learn more about how to adjust your product line or brand to adjust to shifting consumer purchasing patterns? Let's get some foundational research going for you! Reach out to us.