Ongoing AMC Global study uncovers consumers' shifting holiday shopping tactics, predictions and behaviors
The 22nd wave of our ongoing study with OpinionRoute was released today. This wave of our consumer behavior research showed that while holiday spending remains similar to last year, many people will shift their shopping tactics away from brick and mortar stores. Black Friday will see significant online shopping, with many planning to get their holiday shopping done earlier in 2020.
You can see a full representation of the U.S. holiday online shopping behavior data here or click on the callout below.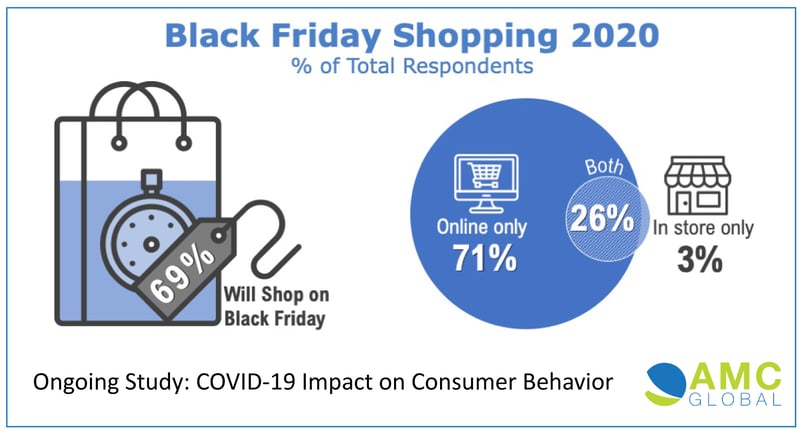 Key findings for the week of November 16:
Consumers predict their average spend on gift giving will remain relatively steady, reporting a spend of $731 in 2020 compared to $775 in 2019.


Consumer spending will shift more toward online shopping, with 36% predicting Amazon online purchasing compared to 29% last year. Only 9% predict purchasing gifts at in-person, independent shops, compared to 13% last year.


Sixty-nine percent of respondents are planning on shopping on Black Friday—with 71% shopping online only, 3% shopping in-store only, and 26% shopping both online and in-store that day.


Thirty-four percent are planning on completing their holiday shopping earlier in 2020, with 11% planning on shopping later.
Staying on top the trends in consumer behavior can help you succeed in an ever-changing marketplace. Growing a brand means discovering insights about your market landscape and your consumers, learn more...