One in three people are following a diet plan during COVID-19, with high protein and low carb leading the way
This week, the 30th wave of our ongoing study with OpinionRoute was released—this month we looked at diet and food choices among Americans. Many study participants who reported that they are following a diet plan started it in the past year, during the COVID-19 pandemic. Popular diet plans include low carbohydrate and intermittent fasting. The study also looked at food choices, with Americans reporting that they are looking for foods that are high protein, low sodium, high in vitamins and minerals, and foods not bioengineered and/or labeled as non-GMO. Top reasons given for various preferred food choices are better for you, easy to make and nutritionally complete.
To see a full graphical representation of the data, click here or the callout below.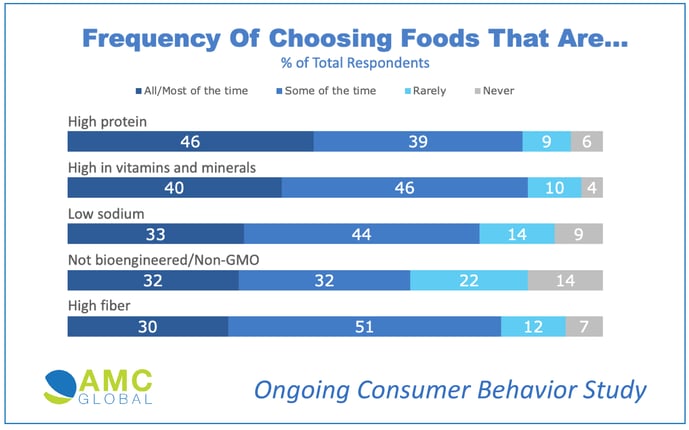 Key Findings About Diet and Food Choices in the U.S.:
Thirty-five percent of respondents report that they are following some kind of diet plan, with 10% following a low carbohydrate diet such as Keto or Atkins.


Most Americans on a specific diet (41%) have been following it for less than a year, starting their diet during the COVID-19 pandemic.


For food choices, high protein is chosen all or most of the time by 46% of Americans, with 40% choosing foods claiming to be high in vitamins and/or minerals all or most of the time.


The top drivers of food choice were better for you (77%), ease of preparation (50%), and nutritional completeness (49%).
A complete graphic representation of consumer diets and food choices during COVID-19 can be found here.
New results are shared each month based on the previous week's polling of U.S.-based general population of primary purchasers age 21+. The next set of findings will be released on July 29. The study findings are designed to help clients and industry leaders navigate quickly changing consumer behavior during the pandemic, and other consumer trends in the marketplace.
Want to learn more about how these trends might affect your food product development plans? Let us help you get started on the right insights!